Shane Kearns - Whitelaw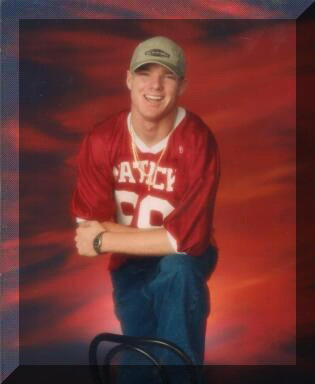 Shane Kearns - Whitelaw
Son, Brother, Godchild
Natick, MA
Shane was the best of the best. Who would have ever thought that I, his Auntie, his Godmother would have to find the words to try to warn others of what a horrible death he experienced, at the hands of GHB. A drug, a killer.
Our Stories: ( as best as we can say )

Shane's Aunt Sue: ( Sue McCormick Wilson)

" On Wednesday December 19, 2001 at 7:35 Am, my phone at work rang, it was Shane's Mother, Kathy all I heard was a painful scream and cry and Shane's name. I knew in that instant I knew my Godson/Nephew was gone, my world shattered. I lost all sense of feeling, thinking of what was and what wasn't. I had no idea what to do, but go to Kathy. Suddenly I was there, and there lay Shane's Mom on her bed, in the most unreal pain, shock, and grief. There are just no words. I knew nothing at this time, but that Shane had died with in the hour. He was dead. Than the word started coming it was a drug, it was GHB. What in God's name was that? Why did he take it? Who gave it to him? WHY? I was with Shane one week to the day before, he was the most beautiful 21-year-old young man, I adored him. We had such a wonderful visit. He was so happy, he had a beautiful girlfriend he loved. He showed me the Christmas present he bought her. He told me he loved her and wanted see her happy. He told me loved his mother, he told me he loved me. And than he was gone.
This is not supposed to happen. I cant tell you all the times I handed his Mom his bag full of clothes after spending the weekend with me, I never once thought I would take his clothes to a funeral home for him. I never once thought I would arrange his pictures for his funeral. I never thought my godchild would lose his life, to drugs.
This is my baby.. The boy I hold as close to my heart as my own 2 sons. Now I am here on this earth left to help his Mom, my dearest friend in the world, try to pick up the pieces of her life that have been destroyed. To help her other beautiful children struggle with the loss of their older adoring brother. And why??? Because someone gave him a drug? No matter if he willing took it, someone provided it. Someone out there continues day after day, to make and distribute a drug that is KILLING people. Would have it been different if God took him in a car accident? I will never know. All I know is someone provided him with a drug that killed him. And some how some way we have stop this.
There but for the grace of God go I